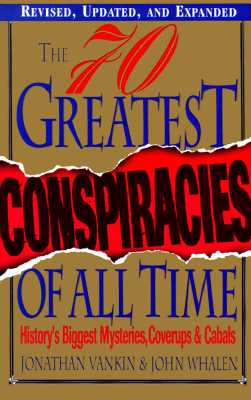 Stock Image
Author Name Vankin, Jonathan;Whalen, John
Title The Seventy Greatest Conspiracies of All Time: History's Biggest Mysteries, Coverups, and Cabals
Binding Soft cover
Book Condition Very Good
Book
Publisher Secaucus, New Jersey, U.S.A. Citadel Press 1998
ISBN Number 0806520337 / 9780806520339
Seller ID 000163
Slight Scuffs And Small Crease On Spine Are The Only Signs Of Having Been Read. Otherwise In As New Condition.
Publisher's description
The 70 Greatest Conspiracies of All Time presents a feast of the most startling conspiracy theories ever. It has been lauded in dozens of publications. Additionally, Wired magazine listed this book in its "Top 10 Fringe Books of 1995".
Now this instant classic has been updated to include late-breaking mysteries and cover-ups, including the alien autopsy controversy, the death of Vince Foster, Big Brother on the Internet, and Japan's shadowy Aum cult.
Those who delve into this book will never again see at the world in quite the same way.
Price = 12.00 USD