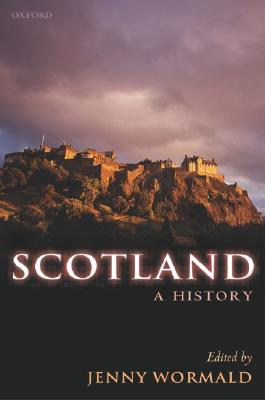 Stock Image
Author Name Wormald, Jenny
Title Scotland : A History
Binding Hardcover
Book Condition As New
Jacket Condition As New
Book
Publisher Oxford, United Kingdom Oxford University Press 2005
ISBN Number 0198206151 / 9780198206156
Seller ID 000113
Scottish history has long been dominated by the romantic tales of Robert the Bruce, William Wallace, Mary Queen of Scots, and Bonnie Prince Charlie. But the explosion of serious historical research in the last half-century has fueled a keen desire for a better-informed and more satisfying understanding of the Scottish past.
This attractively designed book--boasting scores of illustrations, include eight color plates--brings together the leading authorities on Scottish history, who range from Roman times until the present day, offering a more accurate and sophisticated portrait of Scotland through the ages. The contributors take us from medieval Scotland, to the crisis created by Mary Queen of Scots and the trauma of Reformation, to the reign of James VI and the Union of the Crowns (1603). They discuss the seventeenth century, when a stern Calvinist Kirk launched an unprecedented attack on music, dancing, drama, and drinking, and the remarkable transformation of enlightenment Scotland, when the small nation became a great force in European literature, with such eminent figures as David Hume, Adam Smith, Robert Burns, and James Boswell. We discover that in the nineteenth century the Scottish economy, by some criteria, outpaced the rest of Britain, and its preeminence in heavy engineering was unquestioned. And we follow Scotland through the turbulent twentieth century, enduring two world wars and a depression, before ending on a high note, with Scotland enjoying its first parliament in three hundred years.
What emerges here is a portrait of a confident people who slowly built an important place for themselves in the wider world--the story of a remarkably positive, assured, and successful kingdom.
Price = 20.00 USD